Advent Calendar in Song: Diner Soundtrack
Why? you may ask, have I selected for one of my advent goodies, the soundtrack to Barry Levinson's 1982 feature film debut, Diner.
A few years ago, I was doing a huge mixtape for Christmas for some of my friends, and I included cuts from that soundtrack. One of them asked the same question. That's because, to me, Diner is a Christmas movie.
OK. Part of the action takes place during the Christmas season. A group of young buddies getting together over the Christmas break in the run up to one of them getting married. Probably the only Christmassy thing that you'll remember is the scene in which Kevin Bacon's sarcastic smartass gets drunk and takes over for a baby Jesus stolen from a Church nativity display. Much of the rest of the picture, they hang out at the Diner and discuss life's imponderables, such as whose music is better for making out, Mathis or Sinatra?
My friends were just at the end of High School, after graduation we used Diner as a template for how we could continue to bond, even as our lives drifted apart. Thanksgiving and Christmas breaks were those times when, once family duties were dispensed with, we could get together and search for a Diner that served a good roast beef sandwich with fries smothered in gravy. So, part of what Christmas means to a secular guy like me, is a time that affords the chance to catch up with old friends.
There's only two Christmas songs featured on the Diner film soundtrack, both Chuck Berry, "Run, Run, Rudolph" and the cover "Merry Christmas, Baby" (Chess Records, color of the label: Chartreuse). "Merry Christmas, Baby" was originally recorded by Johnny Moore's Three Blazers with Charles Brown providing the vocals.
Merry Christmas Baby, you really did treat me nice,
Bought me a hi-fi for Christmas, now I'm living in paradise.

Neither of these songs were issued on the soundtrack album. However, the album is one of the best oldies film soundtracks ever done, a mix including Jerry Lee Lewis, Bobby Darin, Carl Perkins, Jimmy Reed, Clarence 'Frogman' Henry, Fats Domino, Lowell Fulson, Eddie Cochran and Elvis Presley. OK, there's some tacky schmaltz like the Theme to A Summer Place, and Fascination, but that's part of the late 50's vibe. Whenever I hear a song in a period film that I heard here first, I feel like they took it from Diner, as opposed to, say, reality.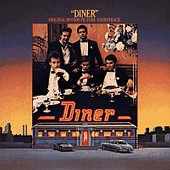 Diner Original Motion Picture Soundtrack
1 Whole Lotta Shakin' Going On - Jerry Lee Lewis
2 A Teenager In Love - Dion & The Belmonts
3 A Thousand Miles Away - Heartbeats
4 Somethin' Else - Eddie Cochran
5 I Wonder Why - Dion & The Belmonts
6 Honey Don't - Carl Perkins
7 Mr Blue - Fleetwoods
8 Reconsider Baby - Lowell Fulson
9 Ain't Got No Home - Clarence Henry
10 Come Go With Me - Del Vikings
11 Beyond The Sea - Bobby Darin
12 A Summer Place - Max Steiner
13 Fascination - Jane Morgan
14 Where Or When - Dick Haymes
15 It's All In The Game - Tommy Edwards
16 Whole Lot Of Loving - Fats Domino
17 Take Out Some Insurance - Jimmy Reed
18 Dream Lover - Bobby Darin
19 Don't Be Cruel - Elvis Presley
20 Goodbye Baby - Jack Scott
Music from a more innocent time, or at least idealized as such, reminding me of an idealized youth and friendships. So, to me, the whole soundtrack of Diner is a great Christmas album.
Labels: Advent Calendar in Song, Musicalia